Client notices
July 15, 2020
Paycheck Protection Program Reopens
Client firms which have not participated in the Paycheck Protection Program (PPP) should be aware that, following the recent extension of the application deadline until August 8, 2020, substantial funds are still available through this resource. Approximately $130 billion reportedly remains in the program, which is intended to provide small businesses with funds to weather the COVID-19 storm, with the potential for a major portion or even all of the loan monies to be forgiven.
The program allows small businesses to use government subsidies, in the form of federal loans, for payroll, rent, and other costs. More than 350 businesses in Woburn alone have obtained loans ranging in amounts from $150,000 to $10,000,000, and many more organizations have qualified for smaller loans. Current regulations require that funds must be spent before the end of calendar year 2020.
More information on the PPP can be found on the U.S. Small Business Administration site, including answers to frequently asked questions. Client firms have reportedly found it most effective to work with their existing banking relationship when applying for PPP loans.
July 6, 2020
COVID Precautions Signage
The poster below is courtesy of Middlesex County Superior Court, which is located at our TradeCenter 128 campus. We will be displaying this signage at many of our properties as a friendly reminder of the precautions we all must take to help keep the Commonwealth on its successful path to reopening.
Client firms may want to download and print this poster for their premises.
Please visit our website for additional COVID-19 resources, and contact your account manager with any questions.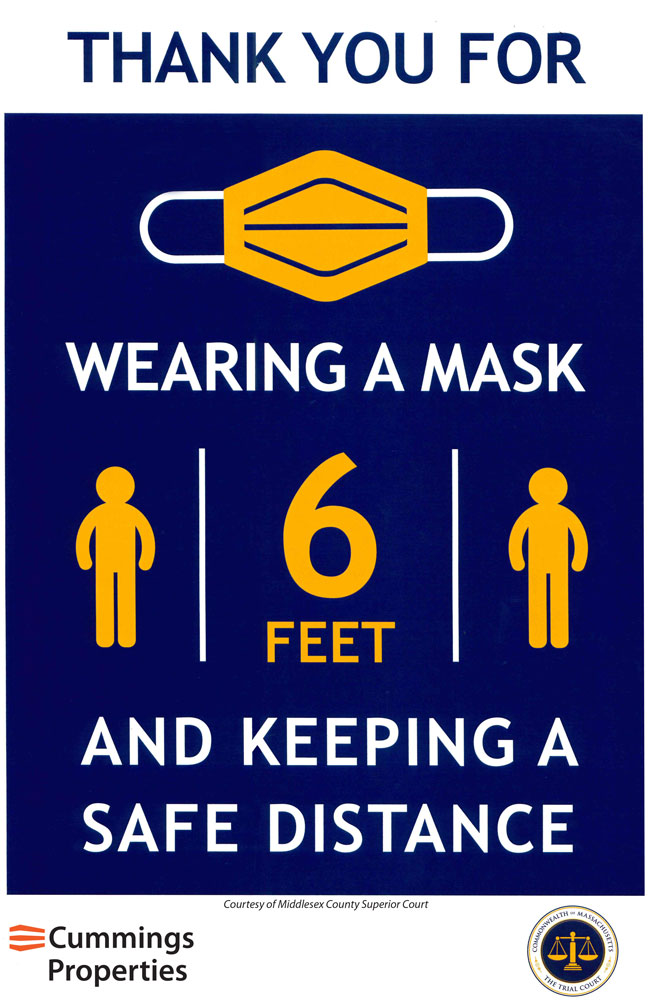 June 26, 2020
Welcome Back from Bill Cummings
As the global pandemic and the unrest related to social justice move inexorably around us, our Commonwealth has been badly shaken, but it certainly will not be broken. With Massachusetts' COVID-related metrics trending in a promising direction, we are ready to restore our lives and our businesses, and to help restore America and this entire planet as a better place for all.
I write today as founder of Cummings Properties to welcome back the client firms and colleagues who have been away from their usual locations. Thank you all for what, in so many cases, have been decades-long relationships. Most of my 70 years of business life have been based in and around Woburn, and I continue coming to the office each day because I am so pleased and honored to work with all of you.
Designated by the Commonwealth as an "essential business," the Cummings organization has necessarily remained open and functioning throughout the State of Emergency, and we shall continue providing services to the many hundreds of businesses within Cummings Properties' workplaces. Keeping all of them safe, clean, and well maintained will remain our top priority. Personally, I have been pleased to be a direct part of that effort from my Cummings Park office every weekday since the start of the public health emergency.
At this time, most client firms are open and operating, or they are rapidly approaching that point. All but a handful of our colleagues are now back at work in our Woburn and Beverly offices too, with generous spacing and other appropriate precautions in place. I look forward to working with all of you to move our communities forward in the coming months.
Sincerely,
Bill Cummings, Founder
Cummings Properties, LLC
P.S. If any reader has not received a copy of my self-written autobiography, Starting Small and Making It Big, I shall be very pleased to have a complimentary copy delivered to you.
June 25, 2020
Summer Child Care and Camp Options
With the school year over and many camps and childcare options limited or cancelled due to COVID-19 regulations and related challenges, clients and their staff may be seeking alternative options for their children. As a helpful resource, Cummings Properties is pleased to offer the following list of childcare centers and camp programs within our client portfolio.
For Families
The Boy Scouts offers Family Camp at Base Camp, a camping and hiking experience in Milton, MA. Family Camp is anticipated to open July 6. Camp will serve no more than 75 families per day. To maintain social distancing, program areas such as pool, ropes course, and archery will not be open. For more information call 617-615-0004 or email
May 22, 2020
HVAC Filter Upgrades
During the next several weeks, our field staff will be replacing air filters in building standard HVAC units with higher performance filters.
This maintenance work will require brief access to your space during normal business hours, and should cause minimal disruption. No action is required on your part for this service to be performed.
We have also increased building exhaust fan run times and fresh air intakes to the maximum levels allowable for effective and sustainable operation. You can also increase the amount of fresh air in your suite by running HVAC fans more frequently.
If your space has been unoccupied for some time, below are a few helpful tips as you re-populate your space:
- Run HVAC unit
- Run hot and cold water (water may appear rusty at first due to non-use, but should clear)
- Pour water in floor drains to eliminate possible odor caused by a dry trap
- Open windows, if operable
Health and safety protocols for our staff
The health and safety of our clients and colleagues is our highest priority. As we have previously communicated, our staff wears face coverings within Cummings Properties buildings as currently advised or required by state or local authorities. Our staff has been trained in CDC safety guidelines including maintaining social distance, washing hands frequently, and avoiding coming to work when sick.
If you have any questions, please reach out to your account manager.
May 19, 2020
COVID-19 Protocols
We look forward to welcoming additional client firms back to our buildings in the coming weeks as we all progress through the Commonwealth's plan for a phased reopening. Recognizing that COVID-19 remains a threat, safely and successfully reinvigorating our local economy will require the cooperation of the entire business community—from firms like Cummings Properties to business owners to individual employees. We ask you and your colleagues to join us in carefully adhering to the protocols recommended by governing authorities, as they are designed to create a safer environment for all of us.
Please review the information and resources below, and reach out to your account manager with any questions.
BUILDING OWNER PRECAUTIONS
Given the variety of sizes and types of properties within the Cummings portfolio, the items below will not apply to every building. If you have questions about your specific building or leased premises, your account manager will be pleased to assist you.
Flow of foot traffic
To facilitate proper social distancing, many stairwells have been, or soon will be, designated as one-way. Please look for and adhere to the "up only" and "down only" signage.
Elevators
Signage will alert visitors to the Commonwealth's recommendation to minimize the use of elevators by more than one individual at a time (unless members of the same household).
If an elevator has multiple occupants, they are mandated by the Commonwealth to wear face coverings.
To limit time spent with others in an elevator, signage will inform building visitors of the location of nearby stairwells and encourage them to use the stairs whenever practical.
HVAC
In a recent article published in ASHRAE Journal (American Society of Heating, Refrigerating and Air-Conditioning Engineers), it was reported that HVAC systems play only a small role in the transmission of infectious diseases such as COVID-19, and that the basic principles of social distancing and good hygiene (e.g. handwashing and disinfecting surfaces) "are far more important than anything related to the HVAC system." Notwithstanding this statement, we are taking the following actions to increase the flow of fresh air within our buildings:
Upgrading the filters in most HVAC units to those with a higher level of filtration
Increasing building exhaust fan run times and fresh air intakes to the maximum levels allowable for effective and sustainable operation
Informing clients that they can maximize the amount of fresh air in their suites by running their HVAC fans more frequently
Reminding client firms to make use of operable exterior windows
Cleaning and disinfecting
We are cleaning and disinfecting building common areas at least two times per day, with the most frequently touched areas being addressed more often. Our custodial team uses a bleach and water solution, as recommended by CDC.
The areas regularly disinfected include building entrance and common area door handles; railings; elevator buttons and handrails; vending machines; water fountains; and restroom counters, faucets, toilets, and doors.
Precautionary signage
Signage will remind building visitors of important orders and precautionary measures to minimize the risk of COVID-19 spread.
Common area seating
In buildings with shared conference rooms, lobbies, and micromarts, we will reduce the seating capacity to support social distancing.
BUSINESS OWNER PRECAUTIONS
Sector-specific protocols and best practices
A great deal of information related to the Commonwealth's protocols for various sectors is available online.
Clients are strongly encouraged to display safety standard posters within their own spaces.
Occupancy for office uses
Per the Commonwealth's Safety Standards for Office Spaces, most clients appear to be using the occupancy formula of 25 percent of a business' typical occupancy as of March 1, 2020, or 25 percent of the maximum occupancy level provided for under the state building code, which is 100 square feet per person for office uses. (Cummings Properties' leases typically state the square footage of a premises.)
By way of example, a business with 5,000 square feet of office space would have an occupancy limit of 50 (5,000 ÷ 100) under typical circumstances and an occupancy limit of 12.5 (50 x .25) under current conditions.
For guidance related to non-office uses, please refer to the Commonwealth's sector-specific protocols and best practices.
Reopening resources
Many Cummings clients are offering products and services that may be helpful as businesses adapt to an altered work environment.
Please view this resources webpage to learn about your Cummings neighbors who are providing personal protective equipment, cleaning services, plexi barriers, office furniture moving services, teleconference technology, and more.
INDIVIDUAL PRECAUTIONS
Avoid touching your eyes, nose, and mouth.
Wear a mask when you cannot maintain six feet from others.
Stay home if you are sick and avoid close contact with others.
Disinfect frequently touched surfaces daily (e.g., desk, phone, keyboard).
Wash your hands often with soap and warm water for at least 20 seconds.
Cover your mouth when you cough or sneeze. Use a tissue or your inner elbow, not your hands.
---
May 19, 2020
Reopening Resources
Following Governor Baker's release yesterday of a phased plan to gradually reopen additional industries within the Commonwealth, we are looking forward to welcoming more clients back to our properties.
We expect to communicate additional detailed information shortly about Cummings Properties' COVID-19 operational protocols for the buildings we manage—in particular, the common areas. In the interim, the resources below may be helpful as each client makes its own return-to-work plans.
As always, your account manager is readily available should you have any questions.
---
May 15, 2020
COVID-19 Update: Planning for a Phased Reopening
Dear valued client,
With the Governor's current mandate limiting business operations within the Commonwealth expected to expire on Monday, May 18, we understand that you may be wondering what changes you might expect at our properties as we enter the Commonwealth's planned "phased reopening" stages.
As we have communicated, our properties have remained open for essential businesses, including all parking areas, building entrances, loading docks, and common areas. While we await further guidance and direction on Monday from the Baker Administration and the Commonwealth's Reopening Advisory Board, we have already taken a number of steps toward minimizing the risk of COVID-19 at our properties, including:
training our colleagues on new safety protocols;
increasing cleaning and disinfecting of common areas with a CDC-recommended cleaning solution;
posting signage reminding clients and visitors of important precautions to take in order to reduce the risk of transmission, as well as state and local mandates; and
requiring our staff to wear face coverings at all times within indoor common areas of Cummings Properties buildings and client suites.
We anticipate providing further communication to inform you of any new guidelines or changes you may expect at our properties as a result of additional guidance from the state. In the meantime, you may wish to review the Baker Administration's May 11 press release for preliminary information about the phased reopening.
Each client will be responsible for determining its own protocols and procedures within its space as a result of state guidance.
Helpful Resources
We have created a list of products and services offered by Cummings Properties clients that may be useful as you adapt your space and operations to meet the new guidelines. These services include tools to encourage social distancing, personal protective equipment, cleaning services, and more.
We thank you for your partnership as we navigate this time of considerable change and challenge together. As always, your account manager is readily available if you have any questions specific to your needs.
---
May 4, 2020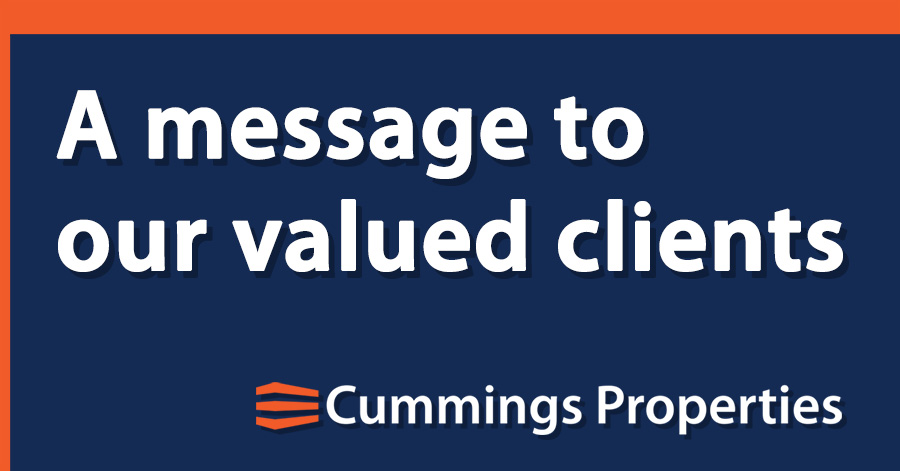 A Message to Our Valued Clients
As we all prepare to move forward again as circumstances permit, please know that all of us at Cummings Properties value our partnership and greatly appreciate your business. In addition, the safety and well-being of you and your staff, as well as our colleagues, is our top priority.
Our buildings remain open for essential businesses, and we are grateful to those aiding in the fight against COVID-19 and providing needed services for their clients and the community. For our clients who are working remotely, or have temporarily suspended operations, we look forward to welcoming you back—hopefully, in the near future.
Rest assured that our team is available to serve you—from the custodians who continue to diligently clean and disinfect common areas of our buildings, to the tradespeople maintaining our properties and answering service calls, to the account managers and administrators who remain accessible via phone and email.
Whether you are currently operating from your leased space, or planning ahead for the return to on-site work, we are happy to serve as a resource.
---
March 23, 2020
The Commonwealth's Closure of Non-Essential Businesses
The Baker-Polito Administration has ordered the closure of all non-essential businesses in the Commonwealth in an effort to curb the spread of COVID-19. This order will be in effect from noon on March 24 through noon on April 7, 2020. A list of businesses deemed essential is available here.
Because the continuity of building functions is among the services deemed essential—and because so many of our leasing clients provide essential health care, biomedical, research, food-related, and other services—Cummings Properties' buildings will remain open, and we will continue to fulfill critical functions such as trash removal, cleaning and disinfection of frequently touched surfaces in building common areas, and maintenance for urgent issues.
Although we are temporarily operating with a reduced staff, your account manager is readily available to answer any questions. You may also call our main offices at 781-935-8000 (Woburn) or 978-922-9000 (Beverly). To the extent possible, keeping everyone's best interests in mind, we ask that you communicate with us by phone or electronically.
Service calls
For the fastest response to service call requests, please submit them through the usual channels: Beverly and all other communities. Non-urgent requests will be addressed after the order has been lifted.
Building accessibility
It is up to each client to determine, based on the Governor's order, whether its leased premises will close or remain open. We will, however, continue to lock and unlock the external doors of multi-tenanted buildings per the usual schedule. Accordingly, your employees who are considered essential, as well as mail carriers and other delivery personnel, will be able to access these buildings. If you have concerns about deliveries while your office is closed, please contact the local post office or delivery service directly.
Construction and buildouts
Because construction is included on the Commonwealth's list of essential business functions, we expect to proceed with all current and upcoming projects within clients' suites. Construction activity at our Dunham Ridge campus in Beverly will also continue.
Please contact us if you have questions. Otherwise, we wish you and your colleagues good health during this challenging time.
---
March 16, 2020
Cummings Properties Buildings Remain Open
Cummings Properties is closely monitoring the situation regarding COVID-19 and staying up to date on guidance from the Centers for Disease Control and Prevention (CDC), Massachusetts Department of Public Health (DPH), and Baker-Polito administration.
As always, we are committed to helping clients maintain the continuity of their businesses. Our buildings remain open, and clients and visitors will continue to have access to our properties, unless otherwise directed by governing authorities. As previously communicated, we will continue cleaning and disinfection of common area surfaces with increased frequency.
We wish you good health and hope interruption to your business is minimal during this challenging time.
As always, your account manager is available to answer any questions.
---
March 11, 2020
Update on COVID-19 Virus
Cummings Properties continues to monitor the situation related to coronavirus (COVID-19) and—in the best interest of clients and staff—to pay close attention to the guidance and recommendations from Centers for Disease Control, Massachusetts Department of Public Health, and Governor Baker. We have also consulted directly with Woburn Board of Health and a leading community health professional. We encourage clients to review CDC's interim guidance for businesses and employers, which includes preventive measures and planning considerations for businesses.
Cleaning of Our Properties
Cummings Properties has reviewed the environmental cleaning and disinfection recommendations from CDC and provided additional training to our custodial staff. CDC currently advises routine environmental cleaning of frequently touched surfaces, and we have opted to increase the frequency of common area cleaning. Our custodial staff disinfects common area surfaces, including exterior door handles, railings, elevator buttons and handrails, and restroom counters, faucets, toilets, and doors.
As always, we are committed to helping clients maintain the continuity of their business. Our facilities will remain open, and we will ensure that clients and visitors have access to our properties, unless otherwise directed by governing authorities.
Prevention
We remind clients that many of the things you do to help prevent colds and the flu can help protect you against other respiratory viruses, including COVID-19. Massachusetts DPH offers the following guidance:
Wash your hands often with soap and warm water for at least 20 seconds.
Avoid touching your eyes, nose and mouth.
Clean things that are frequently touched (like doorknobs and countertops) with household disinfecting spray or wipes.
Cover your mouth when you cough or sneeze. Use a tissue or your inner elbow, not your hands.
Stay home if you are sick and avoid close contact with others.
Guidance for Testing
If you or a member of your staff is suspected of having coronavirus, DPH advises contacting your local board of health, your health care provider, or the Massachusetts State Epidemiology line (617-983-6800), which is staffed 24/7.
For more information, please visit the CDC and Massachusetts DPH websites. As always, your account manager is available to answer your questions.
---
March 4, 2020
Update on COVID-19 Virus
With the recent detection of the novel coronavirus in the United States, Centers for Disease Control and Prevention (CDC) and Massachusetts Department of Public Health (DPH) have provided helpful guidelines for the public and the workplace.
According to DPH, the risk of the novel coronavirus (also known as COVID-19) to residents in Massachusetts remains low. The risk for influenza, however, is currently high. DPH advises that many of the measures one takes to help prevent colds and the flu can help protect against other respiratory viruses such as COVID-19:
Washing hands often with soap and warm water for at least 20 seconds
Covering coughs and sneezes
Staying home if sick
A helpful guide including these and other tips is available at the DPH website. Please consider posting the information in your common workplace areas.
CDC also offers helpful information and recommendations. We encourage client firms to review its guidance for employers. Currently, these recommendations include:
Actively encourage sick employees to stay home
Separate sick employees, and send sick employees home
Emphasize respiratory etiquette and hand hygiene by all employees
Perform routine environmental cleaning of frequently touched surfaces
Cummings Properties' custodial staff will continue its daily efforts of cleaning common areas, including frequently touched surfaces such as door handles, elevator panels, and bathroom surfaces. According to CDC, no additional disinfection beyond routine cleaning is recommended at this time. We will continue to stay apprised of information and recommendations made by CDC and DPH.
As always, please contact your account manager with any questions.