Background Info
Cummings Properties is proud to realize the renaissance of the nearly 2 million square foot former headquarters of United Shoe Machinery Corporation, a North Shore landmark since 1903. A top-to-bottom restoration has transformed "the Shoe" into Cummings Center, a vibrant corporate campus serving a new century of business. Lease any size high quality Massachusetts office, laboratory, or research space in this extraordinary complex.
Hailed by The Wall Street Journal on October 2, 1997 as "the single most important concrete landmark in this country," Cummings Center in Beverly, Massachusetts offers world-class quality and flexibility. It is home to an eclectic population of more than 600 diverse businesses, including dozens of corporate headquarters, and major software developers, plus pharmaceutical, biotech, and other types of research firms, as well as service firms of all varieties.
Pulitzer Prize winner Ada Louise Huxtable, author of the feature story, described Cummings Center as "a building of outstanding utilitarian beauty. Its stunning glass-walled simplicity, the pleasing proportions based on its structural system, foreshadow the later modular designs of Mies van der Rohe and one of the basic aesthetic principles of modernism—the direct relationship of structure to style."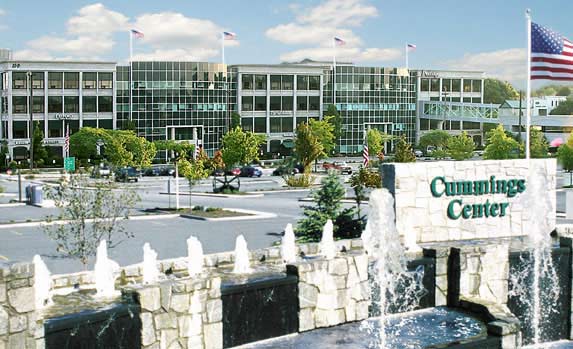 Concluding her October 1997 Wall Street Journal column, Ms. Huxtable (shown here with Cummings Properties founder Bill Cummings) wrote: "In the end, there were small losses and enormous gains. For [Cummings Center] it has been a miraculous rebirth. For those who prize an architecture still invisible to many and treated as expendable by most, this is more than a success story; it is a dream come true." Move your business to this fine executive office and research park. Call Vice President and Cummings Center General Manager Steve Drohosky at 978-720-4066 or email us beverlyleasing@cummings.com today for more information.
In April 2000, Buildings Magazine named Cummings Center as its "National Grand Prize Winner" among the country's most significant building restoration projects. "What makes this modernization remarkable - beyond its epic scope - is the true appreciation of the facility and its importance to the surrounding community," wrote Editor Regina Raiford. "Cummings Center's success represents a return of something precious."
Read a much more local story in the Salem News, commemorating the 10th Anniversary of Cummings Center.
Offering 2 million square feet on a 77-acre lakefront campus. Office, executive office, sales, and research space.
About one mile from Rt. 128, America's Technology Highway, Cummings Center leases MA office, research, laboratory, and financial services space. This mega complex is just a 25-minute drive from downtown Boston and Logan International Airport. Beverly and its environs offer the accessibility and quality of life for which the North Shore is renowned.
The 77-acre corporate campus is adjacent to both Bass Haven Yacht Club and Beverly Golf & Tennis Club, along with restaurants, banks, medical offices, on-site child day care, entertainment, and downtown Beverly, as well as a McDonalds and a Super Stop & Shop, almost on-site. Cummings Center has on-site MBTA and CATA bus service, and is just two blocks from the main commuter rail station, with direct access to North Station in Boston.
Located just north of Boston, Cummings Center in Beverly currently houses an extraordinary variety of Beverly and Boston medical and other professional practices. A large branch of North Shore Community College is even there. Cummings Center sees approximately 4,000 to 5,000 employees and visitors per day. Tenants occupy at least 2 million square feet. The most "typical" tenant leases between 1,000 and 6,000 square feet, but there are 40 firms occupying 10,000 square feet or more. The most "typical" tenant leases between 1,000 and 6,000 square feet, but there are 30 firms occupying 20,000 square feet or more.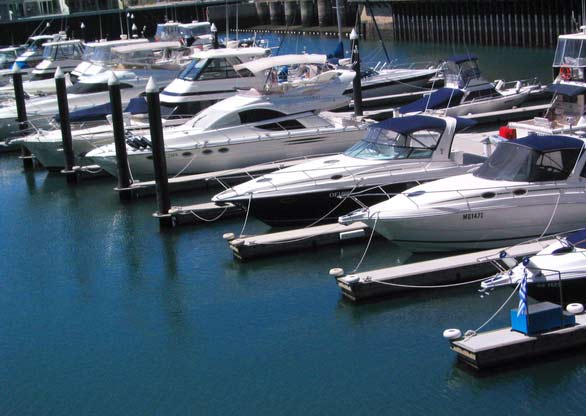 Indeed, Cummings Center welcomes firms of all sizes, beginning in spaces as small as a few hundred square feet. The complex is appropriately designed to accommodate all sorts of Massachusetts office, executive office, research, and service needs. Leasing is a simple process, using a standard form four-page lease.
Cummings Center leases MA office, laboratory, and research space of every description. There is no better source for leasing Boston commercial real estate. All rental rates include building insurance, base real estate taxes and on-site management, as well as free garage parking and complete maintenance of all building standard equipment.
Also included in the base rate are all costs for common area maintenance, snow removal, structural and mechanical maintenance and landscaping. For the smallest suites, utilities are included at slightly higher rates, but in suites of 1,000 square feet or larger, utilities are typically separately metered. One of the nicest amenities is that the complex is so well located and so well known, for the convenience of prospective visitors and employees.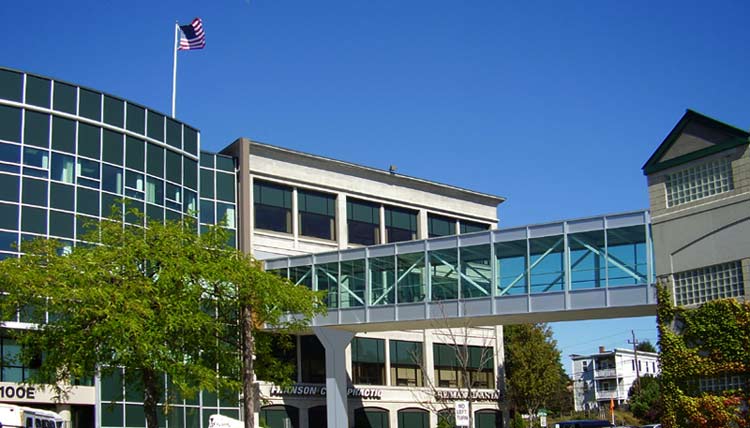 Special features at Cummings Center include its convenient access to Route 128 and its attractive 77-acre waterfront campus, with two scenic ponds. There are literally thousands of large windows in this historic complex, which was well known to students of architecture as the largest reinforced-concrete structure in the world, until 1939. It is also one of the very earliest buildings to incorporate the then brand new "curtain wall" method of construction developed by Ernest Ransome in 1902.
Amenities at Cummings Center are another important reason why so many regional, national, and international firms have selected this huge complex for their business homes. On-site early education and preschool is provided at a state-of-the-art, 128-child Bright Horizons facility. Just down the hall, hundreds of somewhat older students are currently pursuing degrees at the Cummings Center branch of North Shore Community College.
When United Shoe Machinery Corporation flourished in this historic Beverly, MA complex, it operated one of the very first factory-sponsored, state chartered high schools in the country. This was for young Beverly men who spent an extra year taking combined classes at Beverly High School and at USM, so they would be qualified for lifetime careers at "The Shoe."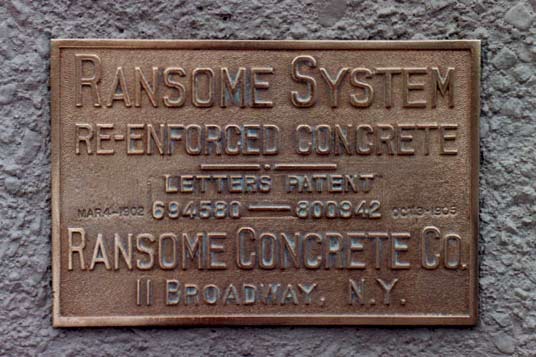 Today, easy access to the MBTA commuter rail in and out of Boston is another valued feature. Numerous on-site health services including medical practices, several dental offices, three chiropractic clinics, and Orthopedics Plus physical therapy, are among the other services relied on by many Cummings Center workers. Leased space near Beverly Airport, with its 5,000 foot runway, is a plus for many as well.
A state-of-the-art 15,000 square foot corporate fitness center is another major amenity for workers at Cummings Center. Seven coffee shops and restaurants are spread throughout the campus, along with barber/beauty shops, and even a church.
There are two full-service banks, People's United Bank and Marblehead Bank, at Cummings Center. There are also several accountants, and travel agencies, and two dozen law offices, insurance brokers, stockbrokers and financial specialists, including Merrill Lynch and others for those who would like to take advantage of the abundant selection of high-powered, professional support services.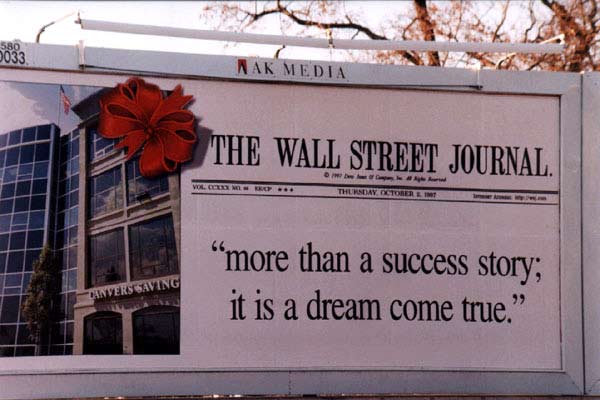 Cummings Properties and a great many of its staff have extraordinary experience in completing complex designs and buildouts for a wide variety of hightech, biotech, and meditech facilities. These facilities range from a 20,000 square foot surgicenter with five operating rooms currently at Cummings Center to Class 100 clean rooms, a radio station, a television studio for Sportschannel, as well as all sorts of biotech and chem labs, and a top secret "tempest room" for a major national defense contractor. They also built and maintain the backup emergency trading floor of a major stock exchange.
Long or short-term office rentals near Boston with free garage parking and public transportation. For fully equipped executive office suites, and "plug and play" offices in Beverly, MA with MBTA bus service, plus on-site Bright Horizons early education and preschool, restaurants, etc. Handicap-accessible Boston office space for corporate headquarters overlooking Interstate 95 in Woburn. Very affordable start-up Boston offices for lease at low cost.
Special nanotech facilities for lease in Boston area with all build-out provided. Quiet office space for massage therapy, chiropractic or psychological counseling. Other MA office space with everything included. Lease broadcast space or Boston recording studio and retail space at junction of I-93 (128) and I-93 in Woburn.
Cummings Foundation, Inc. operates the not-for-profit New Horizons assisted living communities in Massachusetts, and contributes to numerous causes. In Beverly, MA the Foundation recently donated $1 million for the new Douglas Stephens Teen Center at the North Shore YMCA. Mr. Stephens, a classmate of Bill Cummings at Tufts, was the late Executive Vice President of Cummings Properties, where he served 30 years.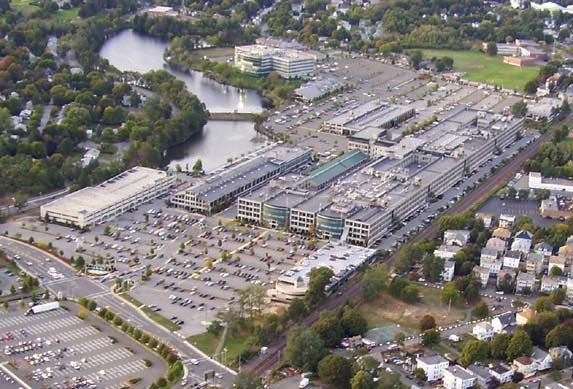 Nestled alongside a tranquil country pond, a unique opportunity is nearing full occupancy. This final major building, 500 Cummings Center, completes the award winning, 77-acre Cummings Center campus.
Featuring six wide-open 50,000 square foot floors, 500 Cummings Center is home to a select group of companies seeking the finest quality suburban corporate lifestyle without sacrificing all the amenities of a central business district. Instead of leasing Boston commercial space, many firms opt to have part of their key operations in Beverly for reasons of strategic security.
500 Cummings Center is conveniently located 18 miles north of Boston in the historic seaside community of Beverly. Cummings Center is just off Route 1-A, just one mile from Route 128. The campus is bounded on the south by Route 62.
The crowning jewel of a prime waterfront commerce park, 500 Cummings Center is conveniently located on Route 62, at Route 1A, just minutes from Routes 128 and I-95. Abundant skilled labor, nearby commuter rail and airport, outstanding golf, tennis and sailing, all combine to provide a complete business and recreational community right at your front door.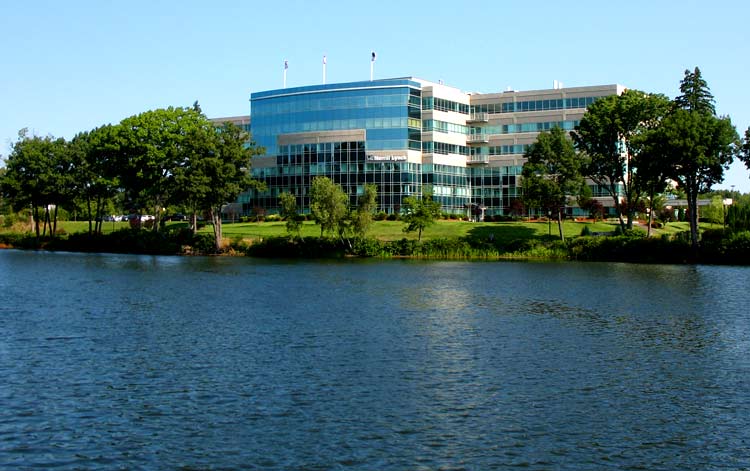 A beacon of commerce on New England's famed "Gold Coast," the wealth of on-site and nearby amenities is one of Cummings Center's biggest attractions. Others like the wealth of historic artifacts which are so prominently displayed throughout the complex. Full-service banking, daycare, restaurants, medical offices, fitness centers, a gift shop, a dry cleaner, hair salons and a day spa, stationers, and more are all conveniently located within the complex. This user-friendly corporate campus provides accessibility and convenience for tenants, employees, and visitors alike.
In September 1998, Beverly dedicated its new James L. McKeown Elementary School at the northwest corner of the complex, on six acres donated to the city by the Cummings organization. Elsewhere on the Cummings Center campus Beverly has appropriated funding to design a new, public safety headquarters on land also donated by the Company at the southeast corner of Cummings Center.
Unrelated to Beverly, the commonwealth of Massachusetts recently honored Mr. McKeown also, when it named a major new interstate highway interchange in his honor. The James L. McKeown Interchange opened in his home town of Woburn in October 2000. This important interchange with two of the new fly-over type bridges was actively promoted by Mr. McKeown during its earliest planning stages, because of its ability to greatly relieve traffic concerns throughout the area.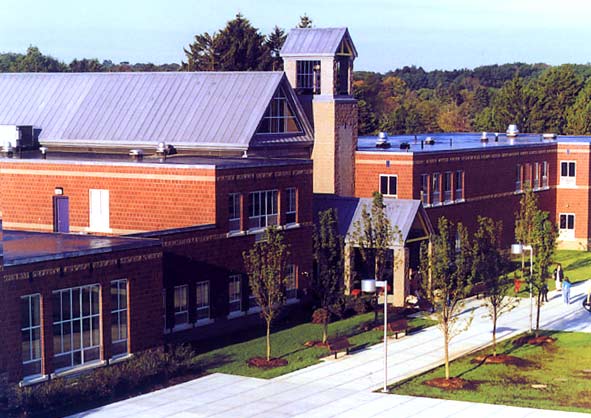 Socially responsible management
Cummings Properties has earned multiple Energy Star awards for its "green" office and laboratory buildings in Massachusetts. It also has a very strong history of recycling and preserving historic structures. The firm's 2 million square foot restoration of the former United Shoe Machinery Corporation headquarters in Beverly, MA is one of the world's largest industrial plant recycling projects.
Cummings Center represents approximately 20 percent of the overall Cummings Properties portfolio. Most of the buildings managed by Cummings Properties—located in 11 suburban communities—are actually owned by Cummings Foundation, with 100 percent of all rental profits supporting hundreds of local charities. To date, the Foundation has donated more than $320 million to a diverse group of local nonprofits in Middlesex, Essex, and Suffolk counties in eastern Massachusetts.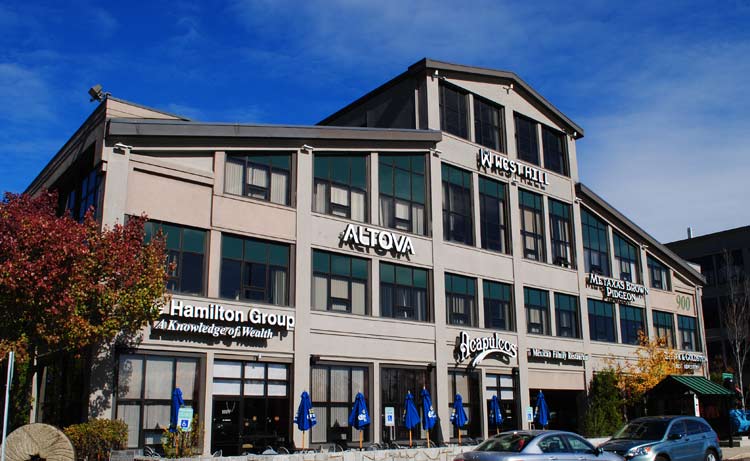 Lease affordable Executive Suites in Boston area
For affordable executive suite offices at Cummings Center, Beverly, MA call us at 978-922-3335. For larger fully furnished or unfurnished offices contact Steve Drohosky at 978-922-9000. Cummings Center is the preeminent Business Incubator for Boston's entire North Shore, with more than 2 million square feet of exciting new space.
In Woburn, Cummings Executive Suites offers 92 professional suites with stunning views directly over I-95 (128) and Baldwin Pond. Immediate availability with a full menu of professional office services. This spectacular building is one of the most visible and easily accessed structures anywhere. The Cummings Executive Suites are owned and operated by Aberjona Valley Distributors, a long-established Woburn building products distribution firm.
The firm also offers special business incubator programs at Cummings Center in Beverly, and at Cummings Park in Woburn, MA. A special incubator facility for emerging tech space users is located near Tufts University in Medford, MA. These incubator lab spaces may have as few as 600 square feet with full service leases.
Lease currently available large clean-room space in Beverly, MA for requirements of up to 60,000 square feet. Other brand new design/build flex space and other ready-to-use MA office space is currently available up to 50,000 square feet per floor. Design/build and space planning services are always available "free" with Cummings Properties. Email or call now for turn-key leases for Boston area commercial real estate.
The firm offers discounted handicap-accessible office space close to Boston with public transportation, as well as excellent Feng Shui office and research facilities. Affordable office and lab facilities have public transportation bus stops at the front door. Many office and labs for lease along with adjacent health clubs, restaurants, daycare, etc. Lease brand new headquarter office tower overlooking Route 128 (I-95), with health club, restaurants, etc., plus free garage parking. Discounted tenant-at-will offices for short-term Boston rentals... some are fully furnished.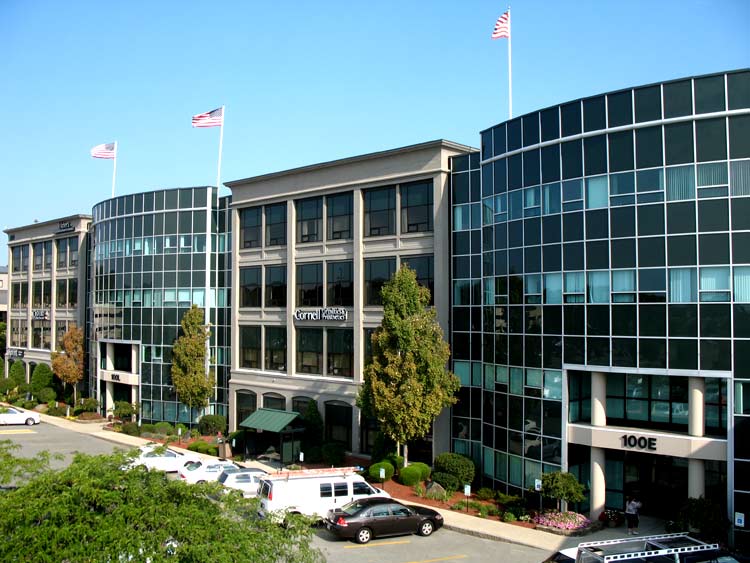 Architecture & History
The late architectural writer Reyner Banham described the USM buildings as the "ultimate masterpiece" of engineer Ernest L. Ransome's declining years (A Concrete Atlantis, 1986).
Bronze builder's plates reading "Ransome Concrete Co., 11 Broadway, NY" mark the southwest and southeast corners of 100 Cummings Center and the north end of the former foundry, on what is now a partially exposed section of wall at the center stairway of 900 Cummings Center. The plates on 100 Cummings Center indicate that construction of that phase began in 1902 and ended in 1905.
On October 2, 1997, Pulitzer Prize-winning architecture critic Ada Louise Huxtable wrote in The Wall Street Journal, "The Shoe was, and is, the single most important, and generally unrecognized, concrete landmark in this country." Huxtable noted that it predated the Detroit auto factories that had been widely credited with the structural and engineering innovations that actually appeared at USM first.
Although concrete reinforced with steel rods is extremely common today, the process was in its infancy in 1903. The reinforcing metal used in the earliest phase of The Shoe was not steel, but rather square iron rods between 1/4" and 1-1/2" inches thick, carefully twisted to give them greater holding power. The resulting product was referred to in early writings as "armored concrete."
In terms of engineering significance, the United Shoe complex is also notable due to its exclusive use of precast concrete sections in its 1911 addition. The largest use of precast concrete pieces anywhere, this work demonstrates Ransome's enormous contribution to building construction.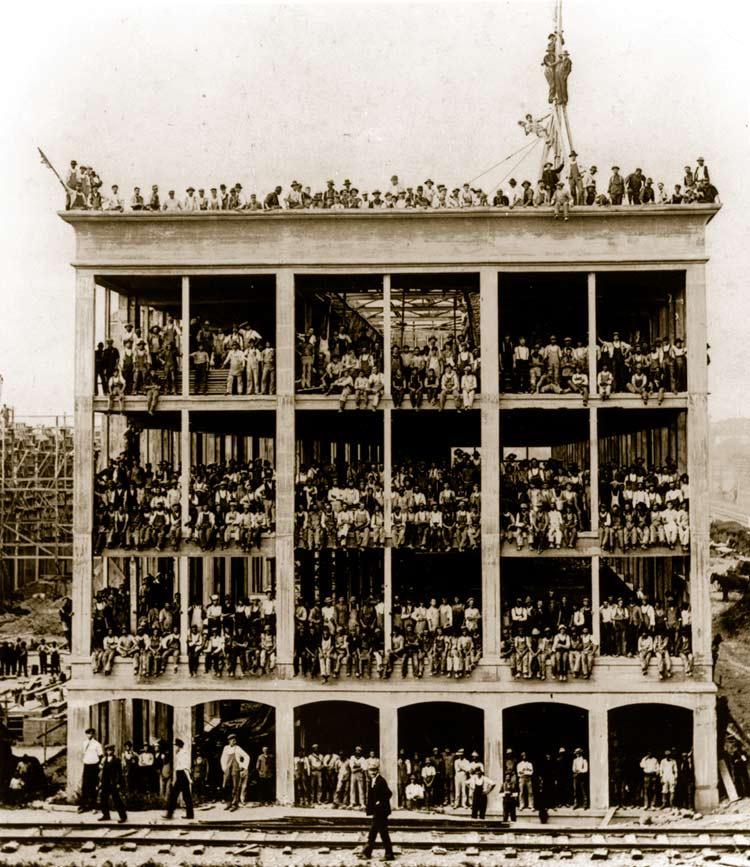 The typical exterior facade of the main building, now 100 Cummings Center, is four stories tall. Its structural elements follow classical tri-partite organization—a primarily horizontal base, a vertically organized shaft section, and a horizontal capital.
Front elevation windows installed in 1997 feature one horizontal and two vertical mullions to match the previous major window components, which had deteriorated over the years. Approximately eight-foot-wide bronze, aluminum-framed windows were installed in 1997 to fill the areas between the sub-columns. These windows took the place of steel replacement windows. A few of the original wood-framed windows remain.
In 1997, two steel-framed four-story additions were completed on the south elevation within two formerly open courts between the primary wings of the main plant. These additions were sheathed in horizontally curved glass curtainwall with a contrasting clear anodized mullion system. The mullions are aligned with major horizontal features of the existing building. The connection of the additions is recessed from the main facade of the existing building. The window system color and wall connection configurations were chosen to complement the existing structure.
In terms of scale, the total combined length of the four main elevations of this building is 3,340 lineal feet, totaling merely two percent of the combined length of the newly added exterior elevations of the additions.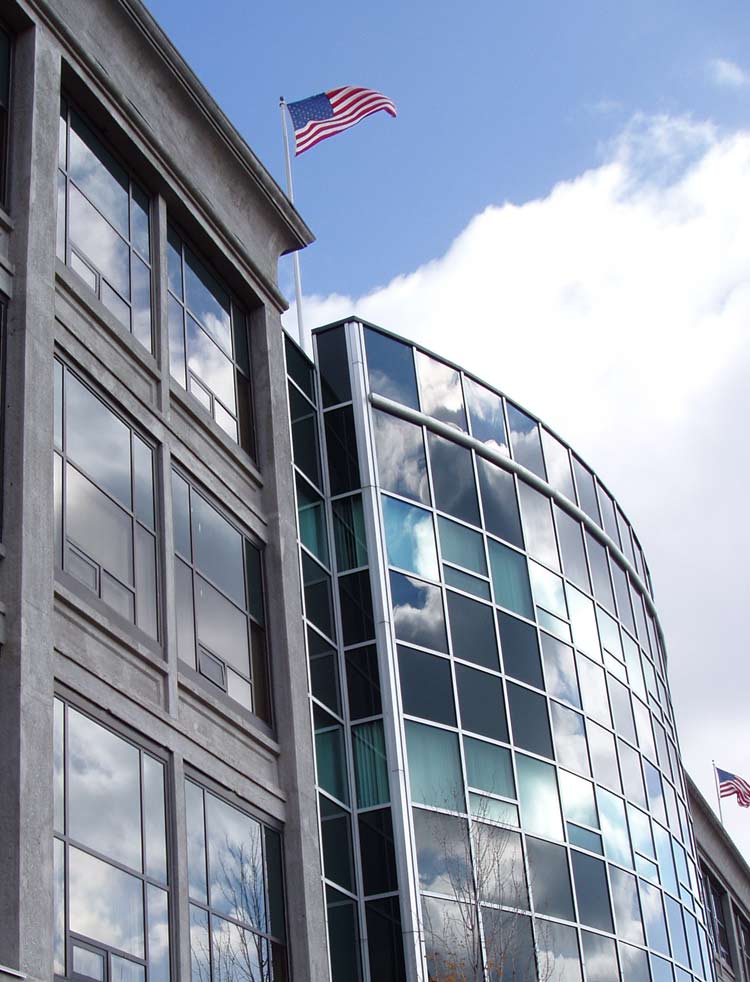 Interior
The interior of 100 Cummings Center has been transformed into a first-class office environment. Prior office construction was demolished, apparently in the late 1980s. Previously, the floors, walls, and ceiling were bare concrete or window systems. The plant was organized in three 60-foot-wide wings. The two easterly wings were more than 1,300 feet long and the total width was 350 feet. Each wing was typically composed of 20'-by-20' bays, each numbered between 1 and 66, from the south. Originally, each wing had windows on both sides. The huge courtyards between the wings were filled in after World War II, and former courtyard windows mostly were infilled with concrete blocks.
Within what is now 125E Cummings Center, 12 fully exposed Doric columns with square capitals are readily visible. These are in what was formerly the north entrance of the main plant before Phase II was constructed in 1911. These columns are the best interior example of the "bush hammering" treatment-an ancient process for dressing stone, using hammers with serrated faces to stress the surfaces. Also very visible are two large completely original wood windows uncovered during restoration.
Several cross-connector areas feature five-story construction, linked to the four-story cross connector by intermediate stairs from the corridor or adjacent stair tower. A 20,000-square-foot 600-seat employee cafeteria was constructed in another fifth-floor space, fully above the main roof level. Three stairways and two new elevators now serve it.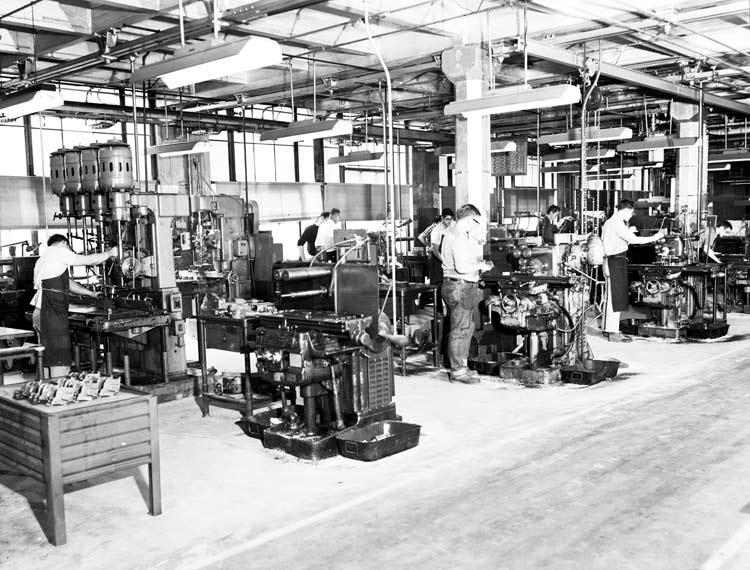 Exterior
The Shoe was significant for its effects on then-developing modern architectural design. Simplified neo-classical design elements adorn the exterior columns and floor skeleton, but other areas constitute a clear link between the historical revival designs of the late Victorian period and the Modernist style that emerged in the 1920s, where simple structural expression was the architecture. The main plant was one of several buildings that inspired architects to see the structural expression of the building type as the design system for the building.
Modernist architects in the 1920s and 1930s often used the "building as machine" analogy to describe the proper approach to building design. Fine art painting and photography of the era was strongly influenced by the aesthetic, evidenced in machines such as ocean liners.
USM's later disregard for the overall appearance of its structures, evidenced by the plethora of ducts, pipes, boards, plastic covers, sheds, transformers, silos, tanks, loading areas, and other appurtenances attached to the building, is an ironic counterpoint to the modernist assertions that functionally derived form is beautiful.
During the 1997-99 restoration, virtually all attachments and numerous concrete and metal additions were removed, bringing all buildings closer to their early appearance. The notable exceptions are the graceful, but unsound 225-foot-tall chimney, which was removed in 1997, and the addition of several prominent aluminum-and-glass curtainwall structures in 1997. Although they do not meaningfully alter the project's overall size, these curtainwall infills have a dramatic visual effect.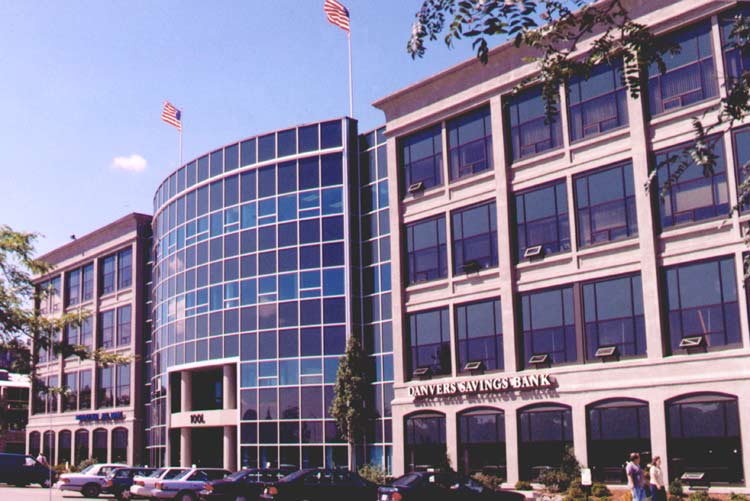 Ernest Ransome's Greatest Work
"As engineering and design, Ernest Ransome's work deserves a prominent place in the story of American architectural advance," wrote Huxtable.
The USM site is the ultimate representation of the work of Ransome, whom Huxtable called "the father of reinforced concrete." Huxtable noted, "At a time when the press was filled with stories of the collapse of experimental concrete buildings—even professionals were skeptical of [his] advances—The Shoe was a daring design" (The Wall Street Journal, 1997).
Ransome's 1903 curtainwall construction "revolutionized building in our time," according to Huxtable. He was also one of the earliest proponents of the Daylight Factory concept. He used this to its fullest in the enormous first phase of United Shoe buildings, between 1902 and 1906, and then again in the second phase, mostly built in 1911. In fact, until the 1930s, The Shoe was the largest reinforced concrete structure in the world.
Ransome was born in Ipswich, England in 1844 to an inventor father who built the first rotary kiln for firing cement. After serving an apprenticeship in the family concrete factory, he immigrated to the United States in 1869 to exploit his father's patent for "concrete stone." In 1870, he worked as superintendent of San Francisco's Pacific Stone Company, and then established a factory for the manufacture of concrete blocks.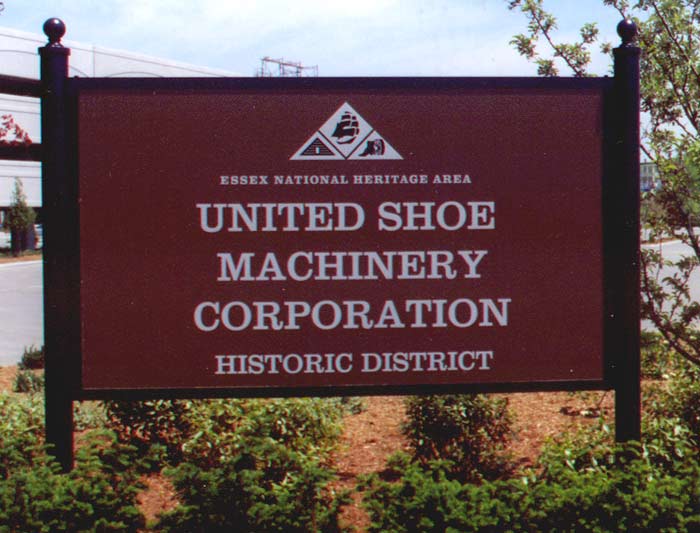 In 1884, Ransome received a U.S. patent (#694,580) that became the cornerstone of the Ransome System for reinforcing concrete. He developed a special machine to twist square iron bars up to 2 inches in diameter. He found that by using twisted square bars he could create much greater tensile strength in the surrounding concrete than with smooth round rods. By 1900, he achieved the full concrete frame, which permitted almost continuous external fenestration, leading to the commission in 1902 to build an entire factory for United Shoe. Interestingly, a set of early plans still exists for a brick design, which predated Ransome's commission.
As USM continued to prosper, Ransome returned to Beverly in 1910 to construct the first major addition to the factory site, and subsequently developed the most notable early example of precast concrete elements for a commercial project. Precast columns, girders, stairways, and wall panels were all formed and poured on the ground, and then lifted into position, before being unified and tied together with poured-in-place concrete floors.
Earlier and smaller examples of Ransome's innovative engineering include the then-largest winery in the world, California's "Greystone," and the Borax warehouse in New Jersey. The USM plant owes its greater significance to its sheer size. And today, with more than 2 million square feet of modern Massachusetts office, research, and laboratory space, Cummings Center is one of the largest commercial restorations in America.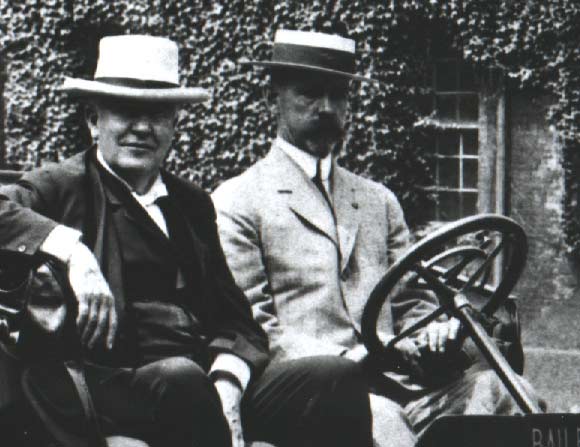 History of Cumings Center
A Monopoly Begins
Founded in 1899, United Shoe Machinery Company, as it was then known, was the result of a merger of the supposedly noncompeting Goodyear Machinery Company, Consolidated Hand Lasting Machine Company, and McKay Shoe Machinery Company. The new firm revolutionized shoe equipment manufacturing and the shoe industry. Its establishment of an international division made it one of the first three international companies ever formed, and it became a worldwide powerhouse, setting up affiliated companies in the United Kingdom, France, Germany, Canada, South America, and Asia. The company became United Shoe Machinery Corporation on May 1, 1905.
Attorney Louis Dembitz Brandeis-who founded Savings Bank Life Insurance Company in 1908 and later became a U.S. Supreme Court justice-secured The Shoe site for USM in 1902. He later turned away from the Company and was prominent in the decades-long court battle against it and its highly monopolistic practices. In fact, during his 1917 Supreme Court confirmation hearings, he was roundly criticized for representing both sides in the USM anti-trust hearings. Some lawyers representing both the Government and USM reportedly spent their entire professional careers working on nothing but a succession of United Shoe anti-trust cases.
The factory was up and running in 1906. A major factory expansion began in 1911, the same year USM's long complex history with anti-trust legislation began. This certainly stemmed from the merger that created USM, as well as the Company's practice of leasing equipment and selling customers only the equipment's proprietary parts.
In 1933, FORTUNE Magazine noted USM's leasing philosophy: "if you can save a man $10 and charge him $2 for the service, it does him no harm if you made a good profit on the $2." The Company's system assured steady income for as long as shoes were made. In addition to parts sales, USM received royalties on shoes. In 1932, about 317 million pairs of shoes were made, and its revenues during that Depression year were reportedly only 15 percent less than just before the Great Depression. Additionally, the region maintained a standard of living like few others in the country at the time.
In 1930, USM built one of Boston's first skyscrapers—the largest at the time—for its corporate headquarters. USM boomed with defense work during World War II that continued even after the war, as did work in USM's Atomic Power Department.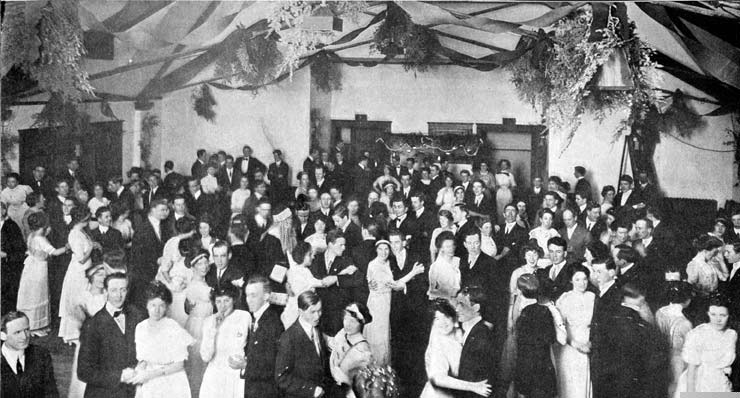 A Model Employer
Beverly had a long history of industrial interests, including the first cotton mill in America, but USM's influence dwarfed all other commercial activity in the area. By 1911, according to the old Massachusetts Bureau of Statistics, Beverly residents as a whole had higher annual earnings than the residents of any other city in the state. USM was a model of employer benevolence for decades before it eventually unionized.
Although the story of USM is one of a monopoly, USM affected the lives of thousands of Beverly-area families in a very positive way; many had multi-generational ties to this hugely successful company. In its heyday, The Shoe made Beverly the richest city in the state, according to FORTUNE, which heralded it as the primary reason Beverly was "dizzy with prosperity" throughout the Great Depression and the Second World War.
Between 1900 and 1910, immigrants quickly swelled Beverly's population from 13,888 to 18,650—roughly half of the City's 1998 population. During 1910, USM's factory staff grew from 3,000 to 4,500, the workweek was cut from 55 hours to 50, as the company reportedly paid its workers the highest average wages in the country. The common stock of USM was worth $70 million by year-end, as the company began to achieve greater success in converting more and more hand operations to mechanical processes.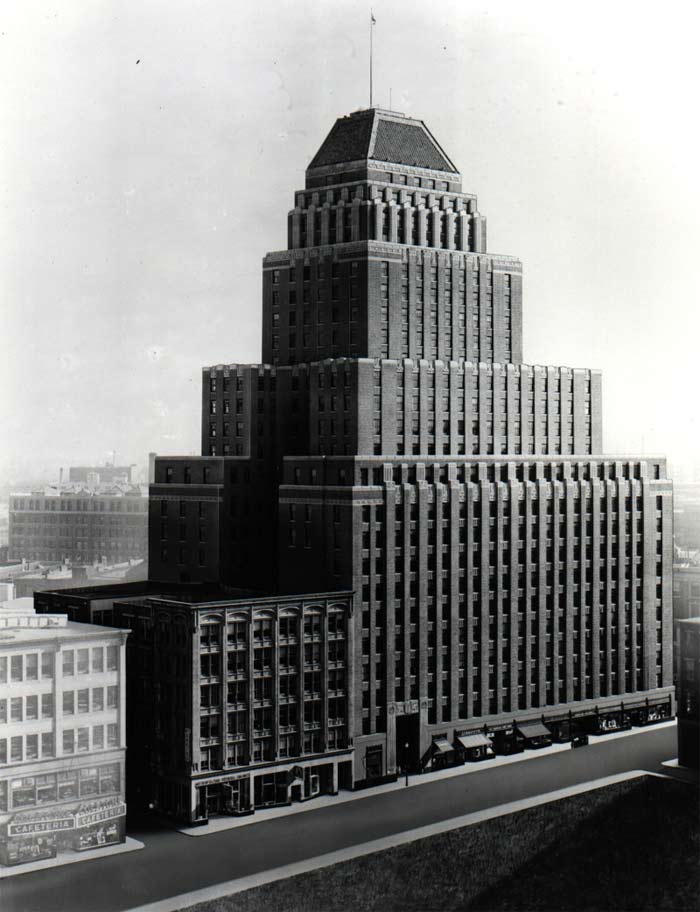 In addition to having its own stop on the north/south rail line between Boston and Lowell, USM actually had Boston & Maine Railroad passenger trains that pulled right into the Elliott Street yard every morning and evening. As Massachusetts became more industrialized in the early 20th century, USM indirectly supplied the experienced staff who would later gear up many other industries as well.
About 1909, the company initiated its own state-chartered Beverly Industrial School, where generations of future workers and managers were trained. Two groups consisting of 35 young men each, alternated weeks between the factory and Beverly High School, and McKay School before that.
USM took good care of its employees. Very early on, it established the USM Athletic Association as the umbrella organization through which it reached out to employees, and to some extent the city. By the fall of 1910, the association had more than 1,100 members, which could have included up to 25 percent non-employee "outsiders."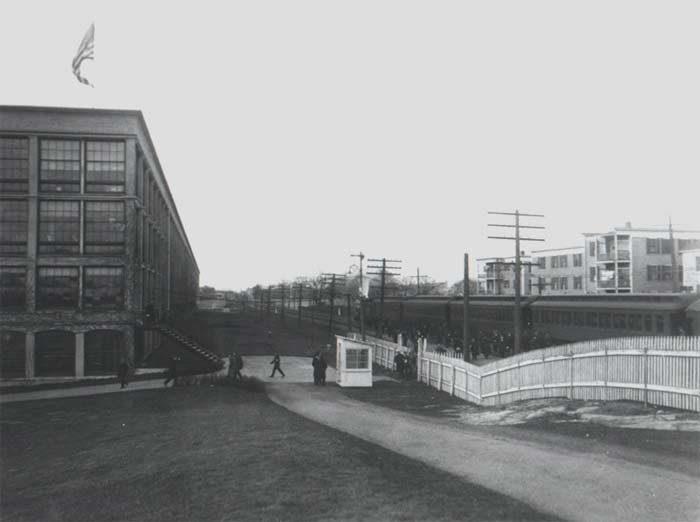 Employee athletic and recreational opportunities were of prime importance from USM's earliest days in Beverly. In 1911, various divisions included the gun club, a new baseball division, a motor boating division, a soccer/football coterie, a bowling league, and a cricket team. There was also a band, a chorus, and a vegetable-growing group. Tennis and the 18-hole golf course (now municipally owned), came along just a few years later. Most activities were centered in a clubhouse (now Beverly Golf and Tennis Club), where attention was given to meeting the needs of both male and female workers.
Among 3,000 workers in Beverly by 1911, the company employed about 100 female office workers and another 70 or 80 female factory workers. The women began "their work ten minutes later than the men and leave ten minutes earlier, so that a proper distance is maintained between the sexes as they enter and leave the factory," according to a company brochure.
The new clubhouse, however, was turned over to the men "a few hours before the bells of the New Year tolled in 1911," by USM Vice President George W. Brown. "Inside are a theater, an auditorium, a library, locker rooms, bowling alleys and cozy little rooms for the women who may congregate with their sewing or other pleasant diversions so dear to the feminine heart," NEW ENGLAND Magazine reported.
"While the United Shoe is one of the largest factories in the country," NEW ENGLAND Magazine noted in 1911, "the provisions made for the comfort, safety, health and contentment of its mass of employees, at times upwards of five thousand persons, men and women, are pronounced to be not excelled, and, perhaps, not equaled at any other factory in the world." The factory, in the judgment of factory experts, ranked "foremost among the best type of twentieth century industrial establishments."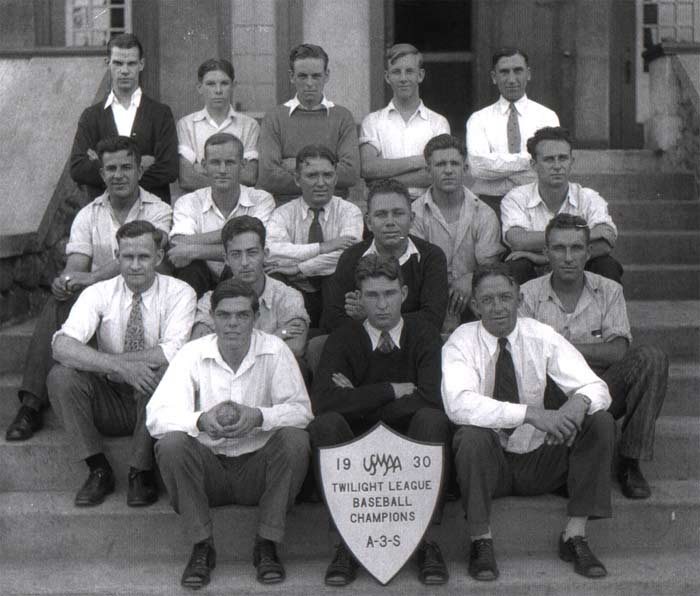 The Monopoly Falls
Between 1899 and 1960, USM developed and marketed nearly 800 new and improved shoe machines and patented more than 9,000 inventions in widely disparate areas. The Beverly plant boasted such modern inventions as the first IBM time clocks, the hot glue gun, the soda can pop top, the drive mechanism for the lunar module, and pop rivets used in the Supersonic Concorde. After 1960, however, the slide from the glory days began.
In 1968, the decades-old monopoly was finally broken up. USM's attempts to diversify in the 1960s had left it deeply in debt. One after another of the new divisions folded, and the stock value dropped from $56 in 1968 to as low as $18 in 1972.
With USM stock selling at half its supposed book value in October 1972, the firm was a prime takeover target. Emhart Corporation bought out the once proud firm in 1976, stemming the bitter trend of forced retirements for a while, but USM was soon winding down its last decade of manufacturing in Beverly.
The Company was finally broken up in 1978. During most of its existence, however, USM was considered among the bluest of blue chip American manufacturing firms. USM was America's first truly multinational company. To many, it was the Microsoft of its day, and in many ways, just as successful.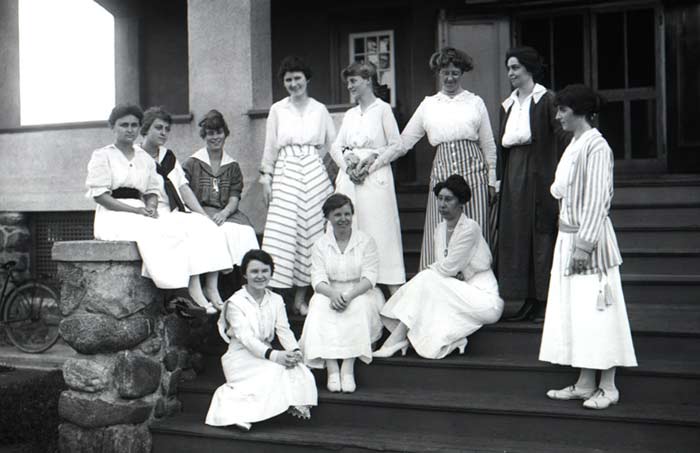 Upper and Lower Shoe Ponds
Fed primarily with underground springs, Lower Shoe Pond and Upper Shoe Pond have a combined 19 million-gallon capacity. Removal of accumulated brush, junk, and other debris opened up pastoral views to the tree-lined north and west sides of the ponds. Cummings has placed benches and plantings on the path that runs along the east side of Upper Shoe Pond for the community's enjoyment. A pump hose on the west side of the pond still provides irrigation water for the nearby golf course, an early USM employee amenity.
North of Balch Street, the site is enclosed by brick single-story multi-family housing, an open field behind the Memorial Building (site of the new middle school scheduled to open in 2017), and additional single-family homes. Bordering the northeast corner of the site, directly across the railroad right of way and surrounded by a landscape of mature trees is the Balch House, a National Register listing considered the oldest wood-framed house in the United States.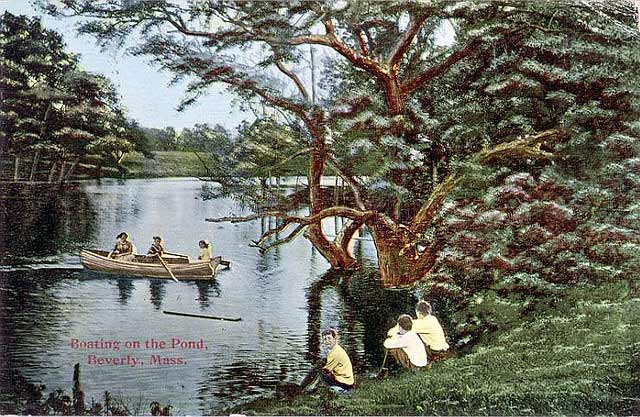 The site's tidewater location made it a prominent point in Beverly history. The tidal basin, long dammed for industrial use, was the original landing place for Beverly's founding "planters." A bronze plaque set in a projecting boulder at Upper Shoe Pond's north end commemorates the landing point of these town fathers. The path connecting the landing to the Balch House site (home of John Balch, one of Beverly's original settlers) is further identified by a bronze marker on a cut granite base on the site along Balch Street. The property is bordered on the west by an attractive single-family residential district, originally a USM development for managers' homes. Street names within this area are named after people who contributed to the development of the shoe machine industry, such as McKay, Matthies, and Goodyear. At the northwest corner of the site is the entrance to Beverly Golf and Tennis Club, formerly United Shoe Golf and Country Club (listed on the National Register of Historic Places). Just east of the golf course is Beverly's James L. McKeown School, which was built on land donated to the city by Cummings Properties.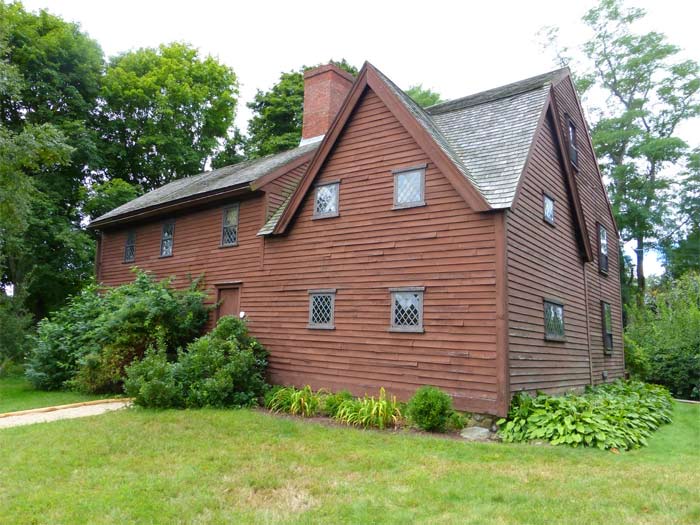 Cummings Center Economic Opportunity Area
Former governor William Weld once described the potential of Cummings Center as a "huge economic engine" for Boston. In line with that thinking, the newly purchased property was officially designated on December 30, 1996 as the Cummings Center Economic Opportunity Area by the Massachusetts Economic Assistance Coordinating Council. The council's purpose is to administer the state's Economic Development Incentive Program so as to promote economic development in Beverly and other selected communities.
Cummings Properties Purchases "The Shoe"
The Cummings organization took over the former headquarters of United Shoe Machinery Corporation on April 28, 1996. What was once the largest concrete building in the world had suffered active neglect for at least a decade and a half and was the source of much consternation in the city it had nurtured so well for most of the century.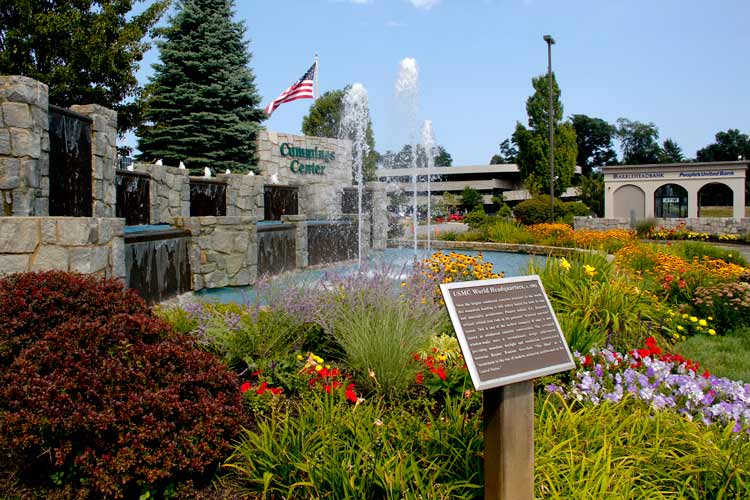 Vast stretches of that huge concrete factory and foundry were dilapidated, ghostly silent, and cold — and the heated portions gulped enormous amounts of energy. The previous owner, The Black & Decker Corporation, had lost millions on the property each year.
Cummings Properties' late president, James McKeown, and chairman, Bill Cummings, first visited the site in November 1994. Almost immediately, they offered to purchase the entire 80-acre complex for $500,000 through Boston broker Robert Cronin, now of Colliers International.
With that offer on the table, the owners reportedly looked for any other offer they could find from the dozens of other prospective buyers who had looked at the property when the asking price was down to $35 million. There were no other takers, even at a giveaway price, but it was still a full year before Cummings Properties' offer was finally accepted.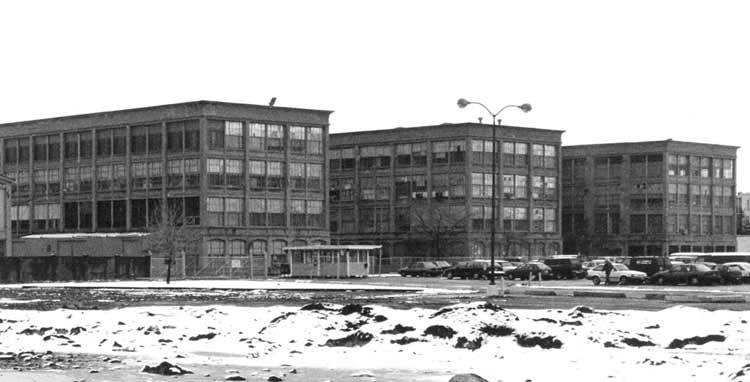 Rebuilding Begins
At the time of the purchase, the former Shoe property was assessed by the city of Beverly at $6.2 million. Given the extremely low purchase price, as well as the derelict condition of the site, significant tax abatements were a logical expectation. Rather than deal with tax reductions, however, Beverly officials pushed for a major rebuilding of the huge complex. They used a state TIF (Tax Increment Financing) agreement as the carrot, convincing Cummings Properties that a large private investment in the sprawling historic landmark made financial sense.
In a November 6, 1997 editorial titled "Breathing life into old factories," The Salem Evening News said: "There is no doubt in our minds that any public funds that might be invested in these projects... or the tax incentives that were granted Cummings, will be returned many times over."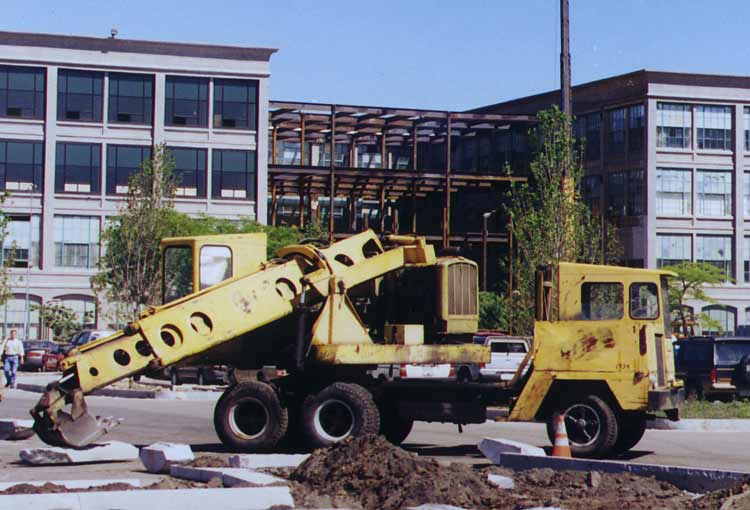 Thus began a more than $80 million restoration and rebuilding of 2 million square feet of what is now one of the Boston area's finest mixed use office, research, and laboratory campuses. The Wall Street Journal wrote about this major project in an October 2, 1997 feature story:
"Because the risk-reward factor of this conversion was enormous, it was no undertaking for the fainthearted. Mr. Cummings has an appetite for challenges. A successful operator of renovated old properties, he has demonstrated a kind of vision and investment savvy conspicuously absent among the owners of similar structures, where serious problems of age, size and condition stand in the way of profitable reuse."
The Shoe site came with some environmental risks, which have since been fully corrected. Even more significant were the huge economic risks of this speculative investment. No new tenants were lined up to occupy the soon-to-be-restored building, and more and more money was needed as more and more sophisticated efforts were undertaken to preserve and improve the historic site.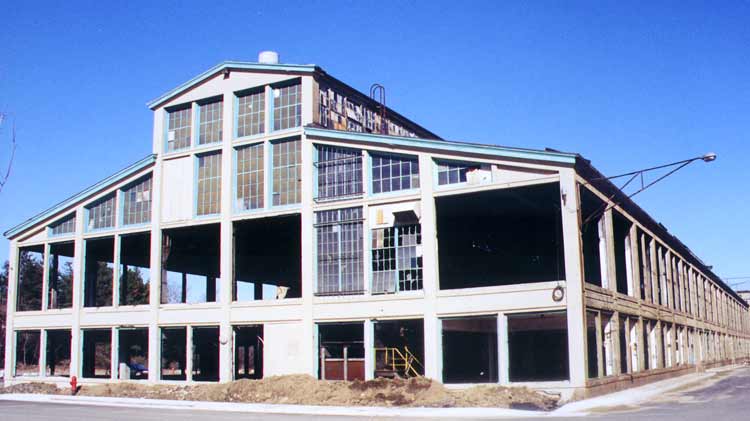 Tenant buildouts were the largest factor, along with two new glass curtain wall additions, which signaled to the world that things had, indeed, changed at "The Shoe." On the north side of the property, a mountain of granite ledge was blasted away to make new parking areas, while acres of new landscaping were created and hundreds of new trees planted throughout the campus.
On August 3, 1998, Massachusetts Secretary of Economic Development David A. Tibbetts wrote warmly of Cummings Properties' conversion of the United Shoe complex:
"The Shoe is one of the Economic Development Incentive Program's premier success stories. Your efforts will continue to make a tremendous and lasting difference for the North Shore and the Commonwealth." He concluded, "The Shoe is an extraordinary accomplishment, and I have every confidence there are many more to come."
Years later, The Salem News published an op-ed piece, "Debunking the TIF myth in Beverly," describing how this TIF agreement served as an effective economic development tool for Beverly. It noted that, between 1996 and 2014, Cummings Properties paid a total of $22.3 million in taxes to the city of Beverly. By contrast, if no further development had occurred at the property, its assessed value remaining stable except for annual cost-of-living adjustments, the City would have received an estimated total of only $3.6 million in tax revenue over the same period.